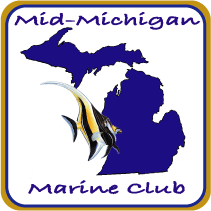 Projects
MMMC was founded to promote the conservation, preservation and protection of the natural coral reefs by increasing education, knowledge and awareness of husbandry, conservation and aquacultured of marine fish, invertebrates, and coral. One of our projects is the Classroom Reef. The classroom reef provides a hands-on and fun learning experience for students.
The classroom reef project's goal is to increase student enthusiasm in scientific studies through the use of marine aquariums. Interestingly, a reef tank provides opportunity to learn about a wide array of scientific studies, including biology, chemistry, physics, electricity, and hydraulics to name a few. It can also involve mastering skills in carpentry, plumbing, and electrical circuits.
MMMC's first Classroom tank was donated to the DeWitt Junior High School in November 2007. It is a 50-gallon reef aquarium which is housed in their Media Center where all students can enjoy it. Junior High School students formed a Reef Club consisting of enthusiastic individuals that will be responsible for the care and maintenance of the tank. Please enjoy the progress photos of the project below.
In the future, MMMC hopes to expand its classroom reef tank project to other area school districts. If you are interested in helping with the Classroom Reef Project or our fundraiser Swap, please contact one of our members.
DeWitt Junior High Reef Club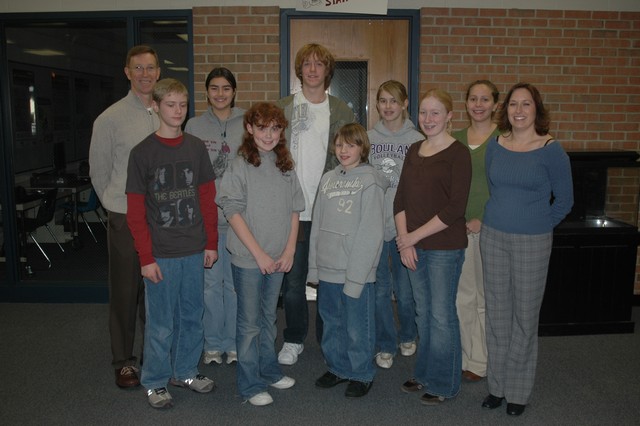 Placing Sand

Setting up Plumbing

Filling with Water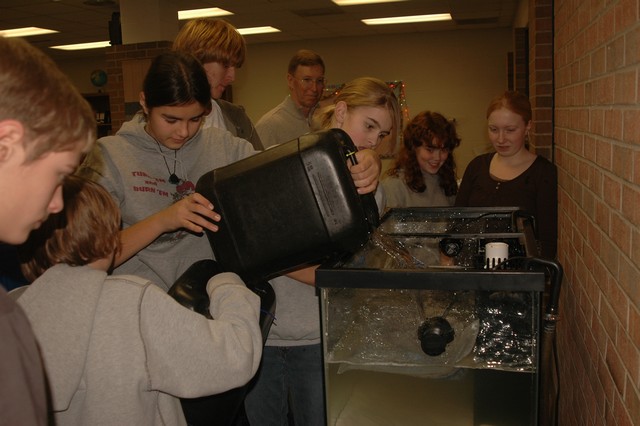 Topping it Off