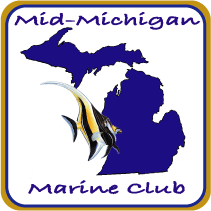 The Mid-Michigan Marine Club
MMMC is a non profit charitable organization covering the Greater Lansing area. Our club is dedicated to increasing the knowledge of both captive and wild reefs. In doing so, we hope to promote the preservation our world's coral reefs and increase enthusiasm toward responsible reef keeping.
Further, the Club is dedicated through its charitable activities to promote the education, conservation and scientific education of K-12 grade students through the use of marine aquariums in the classrooms. It is our goal to increase enthusiasm for scientific and raise general appreciation for reef ecosystems. The future of our coral reefs depends on next generation of stewards of our world.
Please browse our website and feel free to contact us. Also be sure to check out our Discussion Forums, hosted on CaptiveReefs.com.